Looking at our season so far on paper, it's nothing if not inconsistent with seven wins, six draws and seven defeats. But football's not played on paper… not since people stopped doing play-by-mail fantasy football anyway. To reduce our season to these three numbers would be an insult to what has been a typically tempestuous time for our oddball club.
The start in numbers…
Position: 15th
Played: 20
Won: 7
Drawn: 6
Lost: 7
Points: 27
Managers: 2
Puskas Award contenders: 1 (at least)
Prime Ministers: 3
Monarchs: 2
At the season's outset I'm sure we all would've been happy with an uncontroversial mid-table finish with Alex Neil at the helm. Let's see how that pans out. Sure enough, the season got off to a decent start with a 1-1 draw against a strong-looking Coventry side. Into August (yes, the season started in July) and the trip to Bristol City was a game of firsts… first away game, first win and first goals of the season for our two (count them, 2) strikers.
One of the more frustrating periods of the season followed, starting with the home game against QPR where it's fair to say we got Poomed as keeper Seny Dieng grabbed the R's a point after Sunderland had been 2-0 up. Frustration continued against hotly tipped Sheffield United as a Dan Neil red card spoilt a promising first half display.
That's when things started to get really interesting, most of them involving Stoke. The lads travelled to the iconic Bet365 stadium and, despite an iffy first half performance, went ahead courtesy of Ross Stewart; a goal that ultimately won the game. As the players strolled off at the end of the match, Alex Neil flashed a beaming smile towards the adoring travelling fans. "He's absolutely loving it here" I thought. By "here" I meant Sunderland but Alex took it all a little too literally and thought I meant Stoke.
Sure enough six days later he was on the verge of joining the Potters. He turned up for training, then left or something, but all of this meant that for the next game against Norwich at the SOL we were rudderless… or rather we had Mike Dodds in charge. A spirited display, including several attempts against the woodwork, wasn't enough to prevent defeat at the hands, or wings, of the Canaries.
Thankfully, and unlike the last time we were on the hunt for a new manager, a swift appointment was made in time for the visit of Rotherham United four days later as the much-younger-than-he-looks but seemingly lovely man Tony Mowbray took charge.
What followed was a suitably lovely performance as Ross Stewart and Jack Clarke grabbed three goals and three assists between them in a comprehensive victory. Before the game the transfer window had, as it always does, slammed shut but for Sunderland it slowly creaked to a close as there was no Will Grigg in his PJs-style last minute shenanigans. Edouard Michut and Abdoullah Ba waltzed through the French doors along with Costa Rican international Jewison Bennette and Amad Diallo, on loan from Manchester United.
Our new quartet was unveiled before the Rotherham game looking more like participants in a student exchange programme than four new signings, but welcomed they were. More controversially the club saw it unnecessary to bolster their striking options deeming back-up in the form of non-strikers Jack Clarke, Amad Diallo and, bafflingly, Leon Dajaku to be sufficient cover.
Into September and Tony was to find himself in familiar surroundings as we went to the Riverside for the Mowbray Derby (the only reason it will ever be a derby). Boro had had a poor start to the season with just one win in seven but they soon made it two as they came up against an exceedingly underwhelming Sunderland side who lost Ross Stewart to injury in the warm-up. Hopefully it's nothing serious, we thought.
A couple of days later it was confirmed that Stewart would be out for around 12 weeks and at the time of writing he still hasn't returned although it was very pleasing to see him recently "back on the grass". The following day saw the passing of Queen Elizabeth II, and as a result the nation went into a period of mourning meaning all levels of football had their games cancelled. Clearly it's what she would've wanted.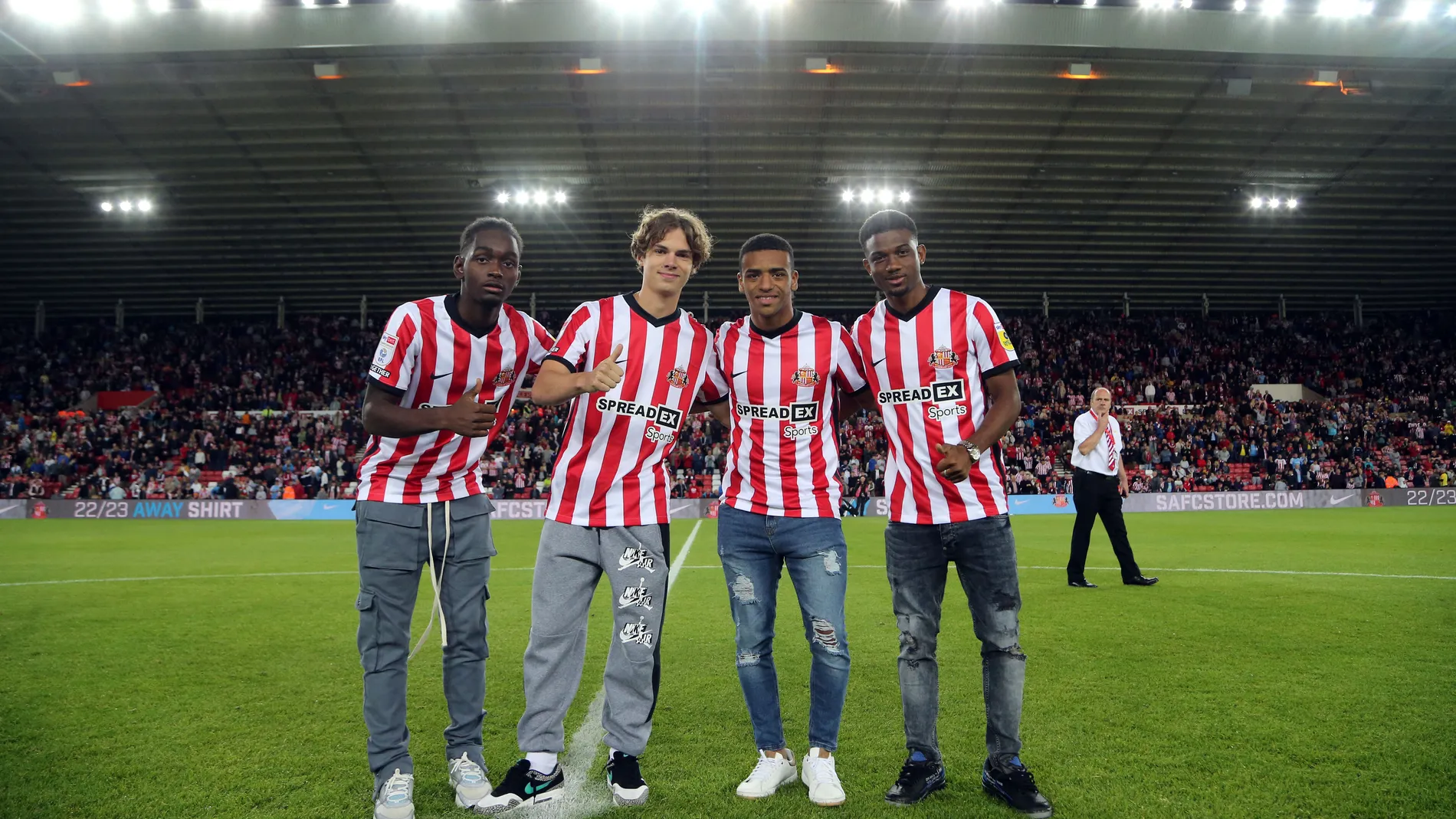 Sunderland's season resumed on 14th September away at Reading and this was significant for two reasons. Firstly, Ellis Simms, our only remaining striker lest we forget, was forced off with an injury after 37 minutes. Elliot Embleton entered the fray and our performance immediately sprang into life as the incredible Patrick Roberts scored two wonderful goals in two minutes. Into the second half and with strong "hold my beer" vibes, Jack Clarke, with a little help from his friends, managed to outshine Roberts' performance by scoring a goal of such unimaginable beauty that many of us are still coming to terms with it several weeks later. Just go and watch it, again, please. The game finished 3-0 to Sunderland who ended Reading's previously unblemished home record. "Who needs strikers anyway?!" most of us joked and some said seriously.
The bright start under Mowbray continued as a late Bennette strike grabbed a point against hotly-tipped Watford taking Sunderland up to sixth. The wheels then started to come off a little in October with two consecutive goalless draws against Preston and Blackpool followed by a 2-1 defeat at Swansea which contained a wonderful Mowbrayism in his post-match interview "I tend to react and look to react and we needed to react". React they did in the following game against Wigan, but not until former striker Charlie Wyke had given the visitors the lead with what was his second goal since suffering a cardiac arrest in 2021. Dennis Cirkin, who I've neglected to mention had also been injured for many weeks, marked his return to the side with an assist and a goal giving Sunderland a much-needed win.
We were brought back down to earth however in the other Mowbray Derby, against Blackburn Rovers, as Clarke was denied a clear first-half penalty and 22 seconds later Ben Brereton Diaz curled a sumptuous effort past Anthony Patterson. More bad luck came in the second half as a marginal offside decision went against us, giving Blackburn the win.
Our Tone was starting to publicly bemoan our lack of strikers now, insisting fortunes would turn in our favour when one of Stewart or Simms returned. Return they didn't for the next game, against Burnley, as we were forced to persist with a rotating cavalcade of false nines. Again though, it initially appeared that this wouldn't hold us back as we raced into a two-goal lead courtesy of Amad Diallo and Dan Neil. But a second half capitulation gave Burnley the opportunity to get back into, and ultimately win, the game 4-2 fully justifying their position as league leaders as the season now pauses for the World Cup.
A 1-1 draw against Luton followed which finally saw the return of a striker in the form of Ellis Simms, who came on as a 71st minute substitute, and he made a telling contribution in the very next game teeing up Amad to seal an away win at Huddersfield after ex-terrier Alex Pritchard had already put the lads ahead in biblical conditions. Amen to that. Simms was deemed fit enough to start the next game, at home to Cardiff, but he evidently wasn't and with old heads Pritchard and Evans rested, young bucks Neil and Ba struggled without some experience in the middle of the park.
Then on to our most recent game, away to Birmingham City and a good performance ensured a great win as Simms scored his first goal since returning to the side and Amad clipped a delightful finish off the inside of the post to essentially seal the win.
It's staggering really to look back and retell some of these stories from the past few months… I haven't even got onto the revolving door at Number 10.
As ever with our dear club there have been numerous ups and downs but lying in 15th place, four points clear of relegation and four points from the play-off places, feels like a successful first part of the season. If you'd offered this to me at the start of the season I might not have snapped your hand off, but I'd have certainly given it a firm handshake and said "we'll take it".
Onto the second half of the season, and here's hoping for generally more of the same with Ross Stewart back, more promising displays from our young players and at least one more Puskas Award contender please.